Cream Cheese Berry Spread
Your berries never tasted so great than it will with this recipe! And it only takes three ingredients to jazz them up!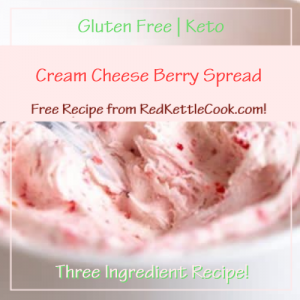 Ingredients:
2 T. organic strawberries or organic raspberries (or any organic berry that's in season)
8 oz. cream cheese, at room temperature
2 T. Monk fruit sweetener
Instructions:
Whip the cream cheese & Monk fruit sweetener together in a bowl.
Then stir in the mashed berries.
Serve with your favorite gluten free bread or muffin.
Note: Each T. = 1 Carb. & 1 protein