These mouthwatering treats are sure to please yourself! But you might not want to make them if you're going to have company, because they'll eat them all & then you won't have any left!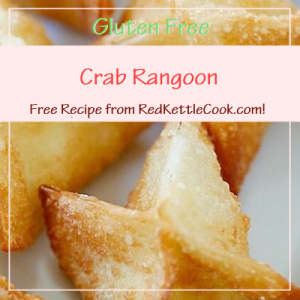 Makes 4 (3 per person)
Ingredients:
12 gluten free wonton wrappers
2 egg whites, slightly beaten
8 oz. fat-free cream cheese, at room temp.
6 oz. cooked crab meat (can substitute imitation crab or lobster if you'd prefer)
1 organic green pepper, finely chopped (optional)
1 organic onion, finely chopped (optional)
Instructions:
Preheat your oven to 375°F.
Dip only one side of the wonton wrappers in the egg whites. The egg dipped side will be on the outside & the dry side will be for the filling.
Is best if you place the wrappers on a plate or a saucer while adding the filling.
Combine the cream cheese, crab meat, green pepper & onion in a bowl.
Place 2 tsp. of filling in each wonton.
Gently press the top closed. The ends should come to a point & stick straight up.
Repeat for all remaining wrappers.
Place on a baking sheet that's been sprayed with non-stick cooking spray. Or has parchment paper on it.
Bake for 9 to 10 minutes or until brown.
Serve immediately because that's when they're at their best!