If there's ever a need for a warm coffee cake, this one's one of the best ones that you can make & bake! And eat without any guilt since it's low carb!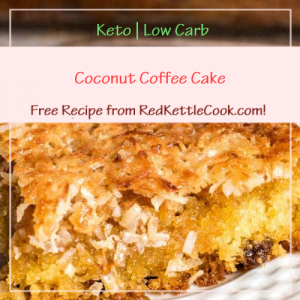 Yields 8 slices
Ingredients for the Coffee Cake:
Ingredients for the Topping:
Instructions:
Preheat oven to 375°F.
Combine eggs, vegetable oil, water & vanilla extract. Mix well.
Add whey powder, gluten flour, oat flour, coconut & Monk fruit sweetener. Mix until everything's moistened.
Pour into a prepared 8″ cake pan.
Bake for 15 minutes or until a toothpick inserted in the center of it comes out clean.
Nutritional Note: Each slice has 5 carbs & 11 proteins