You can't get more basic than this recipe! It's very versatile & you can add any kind of fruit to it to make it taste even greater!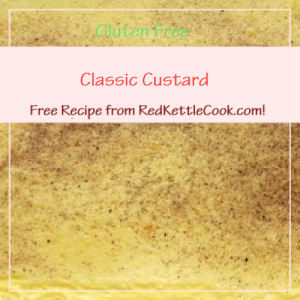 Yields 7 – 3/4 c. servings
Ingredients:
Instructions:
Preheat oven to 325°F.
In a large bowl combine the eggs, sugar & salt. Stir well.
Cook milk in a large saucepan over medium-high heat until bubbles form (don't boil).
Remove milk from the heat & gradually stir in the egg mixture while stirring constantly.
Stir in vanilla & almond extracts.
Pour into a deep 2 quart casserole dish coated with gluten free Grapeseed non-stick cooking spray.
Sprinkle the top with the nutmeg (optional).
Place casserole in a 9″ x 13″ baking pan. Add hot water to the pan to a depth of 1″.
Bake for 50 minutes or until a knife inserted in the center of the custard comes out almost clean.
Serve custard warm or chilled.