Whoa! Go ahead & pass by the frozen desserts in the grocery store. Once you make this recipe you'll never buy another frozen pastry again! And they're so very easy to make!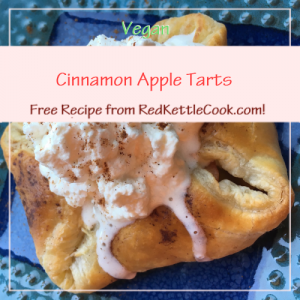 Ingredients:
Whipped Cream Ingredients:
1 pint heavy whipped cream
Instructions:
Defrost puff pastry in the refrigerator for several hours or overnight.
In a large glass bowl, blend 1 pint of heavy whipping cream with a hand or immersion blender until it doubles in size and changes texture. Then, drizzle maple syrup into the bowl & continue blending until the mixture is light and fluffy. Set aside.
Adjust baking rack to middle position and preheat oven to 400°F.
Prepare an egg wash by beating one egg yolk with water until thoroughly combined. Set aside.
Remove thawed puff pastry from refrigerator. Place pastry on a lightly floured surface. Roll dough into a uniform square shape and cut into 4 equal-sized squares. Place squares on a large rimmed baking sheet lined with parchment paper. Pierce the center of each pastry square with a fork & replace the puff pastry in the freezer while preparing the apple mixture.
Melt butter in a saucepan over medium heat. Add apple slices to pan & cook for several minutes until soft, stirring occasionally. Add brown sugar, cinnamon, nutmeg & ground cloves to pan. Stir to combine, then remove from heat & set aside.
Remove prepared puff pastry from freezer and spoon 1/4 of the apple mixture into the center of each square. Fold each corner toward the middle of the square to "close" the pastry, leaving a couple openings so it can vent.
Brush puff pastry with egg wash & sprinkle with additional cinnamon (if desired).
Place the baking sheet in the preheated oven on the middle rack. Bake until pastry is light & puffy, approximately 25 to 30 minutes. When ready, the tart should be a rich golden brown. Actual cooking time will vary by individual oven, so keep a close eye on the pastries to avoid over browning.
Remove from oven & allow to cool slightly before serving. To serve, top with maple whipped cream or your favorite ice cream.