Umm…Chocolate in a mug? And cake, too? I'm pretty sure that this is one of those dessert's that should be eaten prior to a meal instead of afterwards!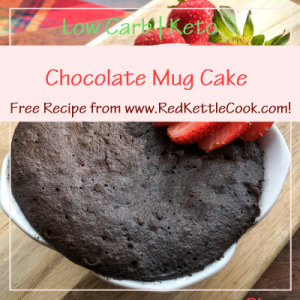 Serves 1
Ingredients:
Optional:
Fresh sliced strawberries, to serve
Instructions:
Add the first three ingredients to a small mixing bowl & stir to combine.
Melt butter in a small (microwave-safe) bowl for several seconds. Add low carb sweetener & stir until completely dissolved. Add egg, heavy cream, vanilla extract & salt to the butter mixture & whisk to combine.
Add wet ingredients to the dry & stir until thoroughly blended. Pour blended mixture into mug or small microwave-safe container & microwave on high for 1 minute.*
Remove from microwave & serve immediately with fresh sliced strawberries (if desired).
*Actual cooking time will vary depending on individual unit. Check to see if they're done after 45 seconds. Do not overcook or the cake may become too dry.