Whoever said that you can't have chocolate if you're gluten free? Or if you're following a low carb & Keto diet? This recipe proves them wrong! You'll be able to enjoy these without feeling guilty!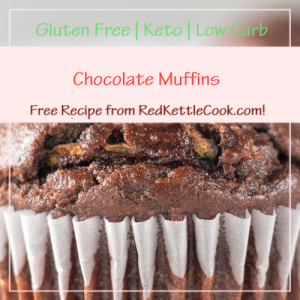 Ingredients:
Instructions:
Preheat oven to 350°F.
Combine oil, water, whipping cream, eggs, vanilla extract & liquid sweetener together. Mix well.
Add Swerve, vanilla whey protein powder, oat flour (or coconut flour or almond flour), gluten flour (or gluten free high gluten flour), baking powder, orange peel & cocoa. Then mix until moistened.
Stir in the walnuts.
Pour into 12 greased or lined with paper lined muffin tins.
Bake for 10 to 15 minutes. Or until a toothpick, inserted in the middle of one of them, comes out clean.
Keep an eye on them so they don't overcook!
Recipe note: Each muffin has 3 carbs & 11 proteins.