Chicken Wrapped Bacon Asian Style
If you like marinating your chicken, because of the flavor explosion in your mouth, then this recipe is for you!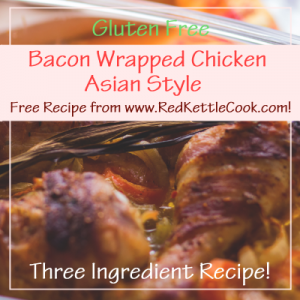 Ingredients:
1 lb. boneless & skinless chicken breasts, cut up into 1″ cubes
1 cup low sodium soy sauce
5 slices bacon (or turkey bacon – if you prefer)
Instructions:
Marinate in the soy sauce overnight in a glass or plastic covered container. Make sure that all of the chicken is submerged in the soy sauce.
When you are ready to cook your chicken, remove the chicken from the marinade and wrap 1/4 of a slice of bacon around each cube.
Place on skewers – kabob style.
Broil on high for 15 minutes until bacon is crispy and chicken is thoroughly cooked.