If you use a rotisserie chicken it doesn't take long to create this delicious & nutritious pot of soup!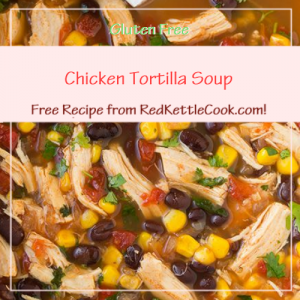 Ingredients:
Soup:
1 medium organic white onion, finely chopped
3 cloves organic garlic, finely minced
1 organic jalapeño pepper, seeded & finely diced
4 cups organic chicken broth
1 cup water
2 cups shredded cooked chicken breasts
1 tsp. organic chili powder
1 tsp. organic cumin
1 (15-oz.) can Rotel, undrained*
1 T. pure tomato paste
1 cup frozen organic corn, thawed
1 (15 oz.) can organic black beans, drained & rinsed
Sea salt & organic black pepper, to taste
*If you can't find the Rotel, use a small use a 4 oz. can of green chilies with a regular can of diced tomatoes.
Baked Tortilla Chips
Serve With:
Shredded Monterey Jack cheese
1 fresh, ripe organic avocado, seed removed & diced
Fresh cilantro, stems removed & finely minced
Instructions:
For Baked Tortilla Strips:
Preheat oven to 400°F.
Brush both sides of each tortilla with olive oil & sprinkle with salt. Stack tortillas into a pile & slice into thin strips.
Arrange tortilla slices in a single layer on cookie sheets & sprinkle with more salt (if desired).
Bake for 6 to 8 minutes. Then rotate baking sheets so the chips brown uniformly. Total cooking time will be about 15 to 18 minutes. When tortilla strips are golden brown, remove from oven & cool on wire racks.
For the Soup:
In a large, deep saucepan with a heavy bottom, heat olive oil over medium-high heat. Add onion & sauté until translucent, about 6 to 8 minutes. Add garlic & jalapeno peppers then cook another 1 to 2 minutes, stirring occasionally.
When garlic turns golden brown, add the remaining ingredients except the chicken & bring to a boil, then reduce heat to low. Simmer for 45 minutes to 1 hour to give flavors a chance to meld.
Right before soup is ready, cover chicken & warm in microwave for 30 to 45 seconds (or put back in hot oven for a couple minutes).
Taste soup then season with additional salt & pepper (if desired).
Divide chicken amongst the bowls & ladle steaming hot soup over it. Top with baked tortilla chips. Then serve with diced avocado, fresh cilantro & shredded cheese.