Delicious in a single dish! If you love chicken, spaghetti & Italian anything then you'll love this dish!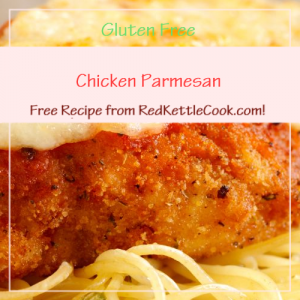 Serves 4
Ingredients:
Instructions:
Preheat oven to 450°F.
Cook pasta according to the manufacturer's directions & drain then set aside.
Put chicken breasts between waxed paper or plastic wrap & pound until they're about 1/4″ thick.
Coat chicken with the bread crumbs (or Panko crumbs).
Place on a cookie sheet that's been sprayed with extra virgin olive oil.
Bake for 10 minutes. Then turn the chicken over & bake for 10 more minutes.
Pour the pasta sauce over the chicken & then sprinkle the mozzarella cheese over the top of that. Bake for another 3 to 4 minutes, or until the cheese is melted & the pasta sauce is hot.
Microwave the pasta in a bowl for 3 minutes if it's cold.
Arrange the cooked pasta on a serving plate. Put baked chicken on top of pasta.