Chicken or Pork Stuffed Fried Wonton
These deep fried dumplings offer an explosion of flavor that are a filling snack and makes everyone will keep a crowd happy.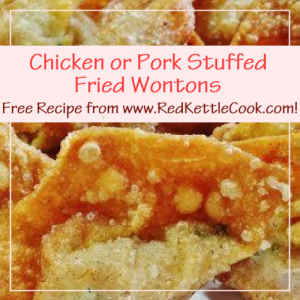 Ingredients:
1 lb. chicken or pork, minced
1 tsp. salt
1/2 tsp. organic sesame seed oil (optional)
2 tsp. corn starch
1/4 tsp. white pepper
1 package wonton wrappers
A little bit of water
Oil for frying
Directions:
Mix meat, salt, sesame oil, corn starch and white pepper.
Lay out a won ton wrapper. Place about 1 tsp. meat mixture in the center.
Brush a little water on the wrapper, around the meat to the edges. Bring all the sides of the wrapper up around the meat. Pinch together to seal. Alternatively, you can fold the wrapper diagonally to form triangles.
Continue wrapping until all meat is used.
In a deep frying pan, heat oil to 350°F. (please make sure there are no young children around the hot oil)
Place won tons into hot oil. Fry till wrappers are golden.
Remove from oil, drain on plate or colander lined with paper towels.
Serve as is, with sweet chili sauce, or sriracha sauce if preferred.
Alternatives:
If you prefer more texture and variety in the meat, you can add finely chopped water chestnuts, carrots and even mushrooms.