Chicken Dressing Casserole
Who says you have to wait for Thanksgiving to enjoy yourself the flavors of dressing? This recipe is sure to please anyone who loves a Thanksgiving feast!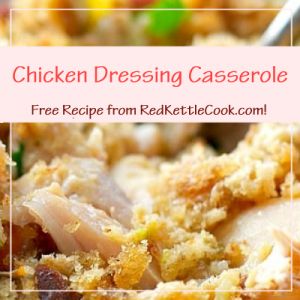 Ingredients:
Instructions:
Preheat oven to 350°F.
Boil the chicken until fork-tender.
Place chicken in a greased 9″ x 13″ baking dish.
Mix sour cream & soups. Then pour them over the chicken.
Sprinkle everything with the stuffing mix.
Pour the chicken broth over everything, making sure that the stuffing mix, soaks up as much of the broth as it can.
Add the melted butter, pouring it over as evenly, as you can get.
Bake for 30 minutes. Or until the chicken juices run clear & the chicken broth is bubbling up the sides of the casserole dish.