Chicken Casserole Mexican Style
This dish might give you a kick, if you know what I mean, but it's absolutely amazing! And if you want it a bit more spicy, you can substitute the can of diced tomatoes with a can of Rotel™ (mild, medium or hot).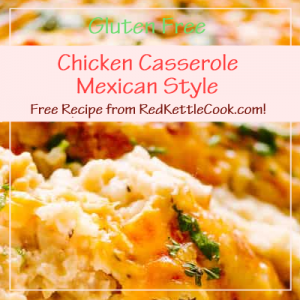 Ingredients:
Instructions:
Preheat the oven to 350°F.
In a 3 quart casserole dish that's been sprayed with a nonstick spray, layer the chicken along the bottom.
In a separate bowl, mix the onion, chilies, garlic powder, tomatoes (with 1/2 of the tomato liquid) & soup.
Then add the shredded cheddar on top.
Best served right out of the oven with some organic & gluten free tortilla chips on the side!