Chicken & Broccoli Casserole
If you're looking for an easy recipe to make, one that's extremely tasty, then look no further! This one's not just satisfying, it's good for you, too!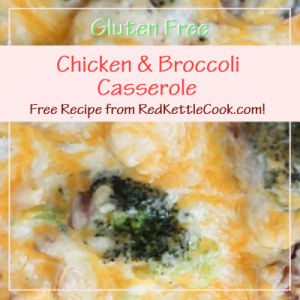 Makes 6 to 8 Servings
Ingredients:
1 – 16 oz. pkg. of frozen organic broccoli florets, thawed
2 T. freshly squeezed organic lemon juice (or just lemon juice)
4 large organic chicken breasts, boneless & cut in half
1 – 16 oz. can of sliced organic mushrooms
1 – 10 3/4 oz. can of organic & low-sodium cream of mushroom soup
1 c. low fat sour cream
Instructions:
Preheat oven to 350°F.
Place broccoli in a greased 9″ x 13″ baking dish. Then sprinkle it with lemon juice.
Place chicken over the broccoli.
In a separate bowl, mix mushrooms, soup & sour cream together. Then pour it evenly over the chicken.
Add paprika, salt & pepper (to taste).
Bake for 1 hour, or until the chicken juices run clear & you see the pan juices bubbling up the sides of the baking dish.
Serve while hot.