If you like fish, you're going to love the quick and easy recipe! It's not only healthy but it's low carb and gluten free!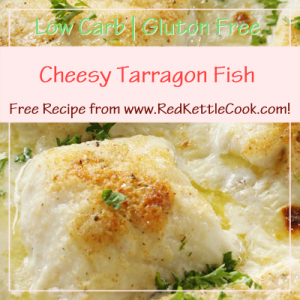 Serves 4
Ingredients:
1 lb. fish fillets
1/2 C. plain nonfat yogurt
1 teaspoon fresh tarragon
1 oz. grated reduced-fat mozzarella cheese
Cooking spray
Instructions:
Arrange fish in nonstick casserole dish, which has been coated with cooking spray.
Bake uncovered at 450°F for 5 minutes. Drain off liquid.
In a separate bowl, mix the remaining ingredients together.
Then spread over fish.
Bake 2 minutes, until cheese is melted.
Low calorie, low fat, low salt, gluten & grain free.