This recipe's so good you'll want to have it at every family gathering! You can make variations of it by including meat, different spices & even different cheeses! Just don't skimp on the cheese cause it's the focus of this entire dish!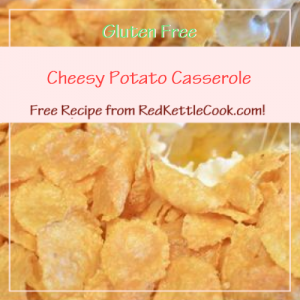 Yields 6 servings
Ingredients:
Directions:
Preheat oven to 350°F.
Cook potatoes in salted water with bay leaf until almost tender.
Cool, peel & grate coarsely.
Combine melted butter & soup. Stir together.
Blend in sour cream, green onions, salt, pepper & 1 1/2 c. of the cheese.
Place in a 2 1/2 quart casserole dish sprayed with extra virgin olive oil.
Top with the remaining cheese & cornflakes (or Panko bread crumbs).
Bake for 30 minutes.
Variation: May substitute with 1 – 32 oz. pkg. of frozen hash browns.