Cheese Bites Wrapped in Prosciutto
Delicate! Decadent! Delicious! These are one of the best appetizers that you can make, day or night, for any kind of occasions!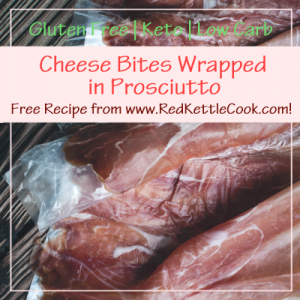 Makes 12 Rolls
Ingredients:
6 thin slices of prosciutto (or Black Forest ham)
1/4 c. ricotta cheese (or cream cheese)
1 T. fresh organic basil, minced (or 1 tsp. organic dried basil)
1 T. fresh organic chives, minced (or 1 tsp. freeze dried chives)
Sea salt, to taste
Instructions:
Cut prosciutto in half to make 12 square pieces.
In a small mixing bowl, combine ricotta, basil, chives & salt* (to taste).
Spoon 1 tsp. of the cheese mixture in the middle of one of the prosciutto slices.
Roll the prosciutto up, so it resembles an enchilada, or a jelly roll.
Twist the ends of the prosciutto so it resembles a piece of wrapped candy.
Cover & chill for at least 4 hours before serving.
*Be careful! The prosciutto can be salty all on its own. Taste it before adding more!