Champagne Vinaigrette Over a Grilled Peach Salad
When you grill peaches it brings out all the sugary sweetness of the fruit! They're divine all by themselves! But when you pair them with a salad & a champagne vinaigrette, you'll love what the results are!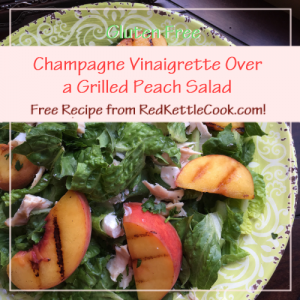 Ingredients:
Instructions:
Clean grill grates (or use a grill pan on your range top) with a wire brush & then spray with organic extra virgin olive oil cooking spray. Grill peach wedges over medium direct heat for approximately 3 minutes per side. For best results, turn over the wedges just once while grilling. Remove from heat & set aside.
Tear Romaine leaves into bite sized chunks & place on 4 serving plates. Divide grilled peaches, chicken, pecans & goat cheese evenly among the plates.
Drizzle each plate with champagne vinaigrette & serve. Or toss the salad with the salad dressing ahead of time & serve it that way. Whichever you prefer!