Five simple ingredients pack a whole lot of punch into this mouth watering salad!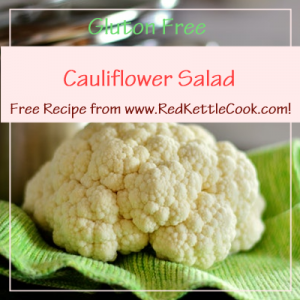 Serves: 4
Ingredients:
1 C. carrots, shredded
1 C. cauliflower, sliced
1/2 C. pecans, chopped
1 C. spinach (or other greens of your choice)
Black pepper to taste
Directions:
Slice cauliflower in 1/4″ to 1″ inch slices.
Tear greens into small pieces.
Toss all ingredients together.
Add pepper to taste.
Chill and serve with your choice of fat-free dressing.
Low calorie, low salt, low fat, Gluten & Grain Free.