Cauliflower Au Gratin Loaded!
Nom, nom, nom! Whenever you serve this recipe, close your eyes & just smell it. Let your nose be the first judge of the dish. Because once you start eating it, it'll be gone lickedy split!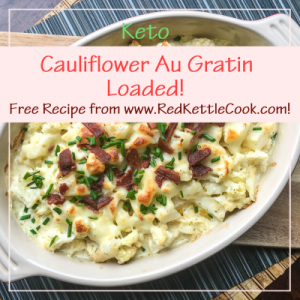 Serves 6
Ingredients:
4 c. cauliflower florets, cut into bite-sized pieces
6 oz. cream cheese, cut into chunks
1/4 c. heavy cream
3 T. unsalted butter, softened
1/4 tsp. organic garlic powder
1/2 tsp. dried dill
Sea salt and black pepper, to taste
1 1/2 c. Italian cheese blend, shredded
4 strips bacon (pork or turkey), cooked and crumbled
1 T. fresh chives, chopped
Instructions:
Place top oven rack in the center position & preheat oven to 400°F.
Place the cauliflower in a steamer basket on top of a pot with boiling water & steam until fork-tender, around 6 to 7 minutes. Remove from heat & transfer cauliflower into a cold water bath to prevent further cooking. Drain well & pat dry.
Transfer steamed cauliflower to a large bowl & add cream cheese, heavy cream, butter, garlic powder & dried dill.
Season with salt & black pepper (to taste) & toss to combine.
Transfer to oven safe casserole dish & top with shredded cheese blend and crumbled bacon. Place in preheated oven & roast until cheese is melted and nicely browned on top, around 8 to 10 minutes.
Remove from oven & serve immediately topped with fresh chives.