Carrots Garnished with Parsley
Steamed carrots are just fine if that's what you want. But these carrots are a giant leap above them! They're tasty, juicy & good for you!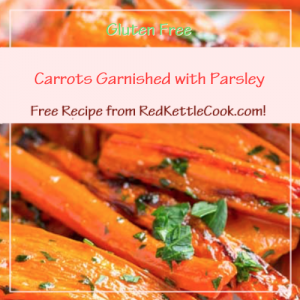 Yields 4 servings
Ingredients:
Instructions:
In a medium sized saucepan combine the carrots, water, lime juice, butter (or Ghee), salt & black pepper.
Bring to a boil then reduce the heat.
Cook on low for 15 minutes or until the carrots are just tender.
Continue to cook uncovered for 5 to 10 minutes or more or until most of the liquid has evaporated, stirring occasionally to prevent everything from sticking to the bottom of the saucepan.
Remove from the heat.
Stir in the sweetener & parsley.
Serving size = 2/3 c. | Calories 77 | Protein 1g. | Carbs 12g.