This gluten free dessert is amazingly delicious! Top it with the cream cheese frosting and you'll have a dessert that is out of this world!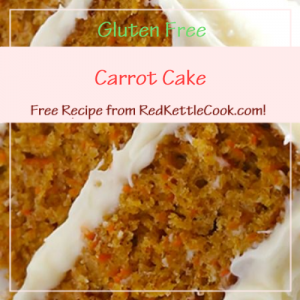 Ingredients:
Instructions:
Preheat oven to 350°F.
In a large bowl, combine almond flour, salt, baking soda, cinnamon & nutmeg.
In a separate bowl, mix together eggs, agave & oil.
Stir carrots, raisins & walnuts into wet ingredients.
Stir wet ingredients into dry.
Transfer batter into two well greased 9″ cake pans.
Bake for 35 minutes.
Cool cake for 3 hours, then remove from pans.
Top with cream cheese frosting.
Cream Cheese Frosting
Ingredients:
Instructions:
Whip heavy cream until stiff.
In a separate bowl, whip cream cheese until smooth, then blend in maple syrup & vanilla.
With a rubber spatula, gently fold whip cream into cream cheese mixture.
Frost your cake and serve it!