This healthy & delicious smoothie tastes more like a decadent dessert than a nutritious way to start the day. The natural sweetness of the orange & carrots are balanced by a trio of complementary spices! While a spoonful of homemade coconut whipped cream serves as the perfect finishing touch!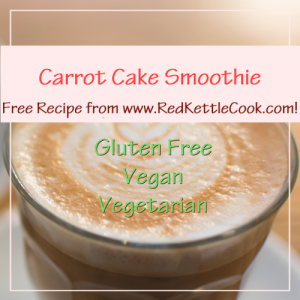 Tip: For best results, use coconut milk that does not contain guar gum to make the whipped cream.
Prep time: 10 minutes
Serves 2
Coconut Whipped Cream Ingredients:
1 13.5-oz. can 100% organic coconut milk, chilled
1-2 T. real maple syrup from Vermont (optional)
1 t. organic orange zest (optional)
Smoothie Ingredients:
Directions:
Chill coconut milk in refrigerator for several hours or overnight. To prepare, remove can from refrigerator without shaking or turning & remove lid.
Scoop out the solidified "cream" from the top of the can & transfer to a mixing bowl. Reserve remaining liquid coconut milk to use in smoothie.
Add maple syrup & orange zest (if desired) to mixing bowl & blend until light and airy.
Allow coconut cream to warm up slightly before blending if lumps occur.