Mmmm…the aromas that this dish lets off, while you're cooking it, are so intense! So much so that you'll feel like eating it right out of the skillet!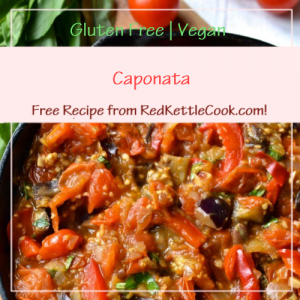 Ingredients:
Instructions:
In a large skillet, sauté onion, garlic & celery in half of the oil until they're soft.
Add half of the eggplant & half of the tomatoes. Cook until everything is soft.
Add half of the vinegar & pour into a large dish.
In a medium saucepan, combine the remainder of the oil, eggplant, tomatoes & vinegar. Cook until soft.
Combine with the first batch & add the olives, capers & spices.
Allow to marinate.
Best when served at room temp with gluten free crackers or wraps!