Buffalo Wing & Veggie Casserole
This is the perfect recipe to make for game day! Prepare it ahead of time so you can enjoy being an armchair ref, then enjoy the casserole during half time!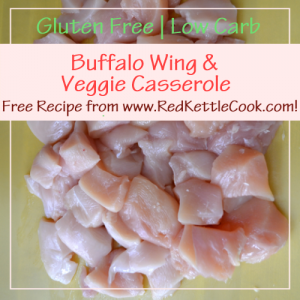 Ingredients:
3 to 4 chicken breasts, cut in bite size pieces
1 tsp. avocado oil or ghee
2 T. olive oil or butter
1 1/2 cups broccoli florets
1 cup mushrooms, sliced
1 red bell pepper, chopped
1/2 white onion, chopped
12 oz. cauliflower rice
1 T. garlic, minced
1 cup mayonnaise
1/2 cup hot sauce
1/4 cup coconut milk
1/2 tsp. each:  salt, black pepper, onion powder, smoked paprika
Optional garnishes:  Drizzle the top with ranch dressing and sliced green onions
Instructions:
1.    Preheat the oven to 375°F.  Grease a large 9″ x 13″ baking dish with avocado oil or ghee and set aside.
2.    Melt 1 T. olive oil or butter in a large skillet over medium high heat.  Season the chicken breasts with salt & pepper on both sides, then add them to the skillet.  Cook the Chicken for a few minutes per side until browned (don't worry about cooking them through) and set them aside on a plate.
3.    Melt the other T. of olive oil or butter in the skillet and add the vegetables (broccoli, mushrooms, peppers, onion and garlic).  Sauté until tender crisp, about 5 minutes (they don't need to be fully softened).
4.    Stir in the cauliflower rice, and remove from the heat.  Transfer the mixture to the greased baking dish, and layer the chicken over the top.
5.    In a small mixing bowl, combine the mayonnaise, hot sauce, coconut milk and spices.  Pour the sauce over top of the chicken and vegetables.
6.    Transfer the dish to the oven, and bake for 45 minutes or until the chicken is cooked through and the sauce is bubbly around the edges.  Serve hot!