Buffalo Chicken Wing Soup
There is no better way to depict Buffalo Wings than with this recipe! You can make it as hot as you would like to & it will still taste great! Plus it will warm you up when it is so cold outside!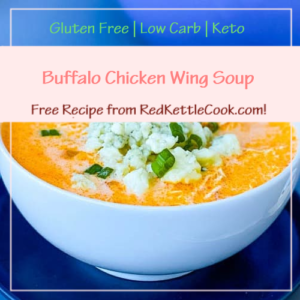 Ingredients:
6 c. milk (almond milk works, too)
3 -10.25 oz. cans of cream of chicken soup
1 c. sour cream
1/2 c. ranch or bleu cheese salad dressing
1/4 c. hot sauce
Garnish with crumbled bleu cheese & sliced green onions
Instructions:
Combine everything & put in crockpot that is set to low.
Cook 4-5 hours.
Top with bleu cheese, green onions & sour cream (if desired).