Broccoli & Tuna Hot Wraps
Any kind of wraps are all the rage these days and this one is no different. Well, except for the fact that it is a culinary treat for your taste buds all the way down to your stomach!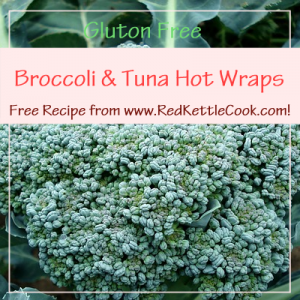 Ingredients:
1 can cream of mushroom soup, undiluted
1 cup milk
1 can (12 oz) tuna, drained and flaked
1 cup cheddar cheese, shredded
1 small onion, chopped
6 – 6″ gluten free tortillas
1/2 cup tomatoes, chopped
2 1/2 cups cooked broccoli florets
Instructions:
Preheat oven to 350°F.
Grease 12″ x 8" baking dish.
In small frying pan, sauté chopped onion until golden brown. Divide and set aside.
In the meantime, combine milk with soup and set aside.
In a separate bowl, add tuna, broccoli florets, 1/2 cup cheddar, half of the onions and ¾ cup of soup mixture and thoroughly mix.
Top the 6 gluten free tortillas with the tuna mixture, roll up and place seam side down into the baking dish. Cover with the remaining soup/milk mixture, top with chopped tomatoes and cover with foil.
Bake in preheated oven at 350°F for 35 minutes.
Uncover, top with remaining onions and cheese and put back into the oven for another 5 minutes or until the cheese is melted.