This simple stir fry recipe is amazingly simple, quick & easy to make! And with the addition of the chili-garlic soy sauce it spices up what could've been a bland dish.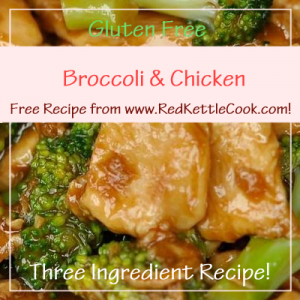 Ingredients:
1 lb. chicken cutlets, cut into strips
Chili-Garlic Soy Sauce
1 small crown of broccoli florets, cut into bite sized pieces
Instructions:
Microwave the broccoli florets 8-10 minutes.
Stir fry the chicken strips a small amount of peanut oil. Cook strips until juices run clear and chicken is fully cooked.
Add the broccoli florets and soy sauce to taste just before you serve it.