Broccoli & Cauliflower Stir Fry
What a great way to get your daily requirement of vegetables eaten in one recipe! It's so good you might want to keep it forever!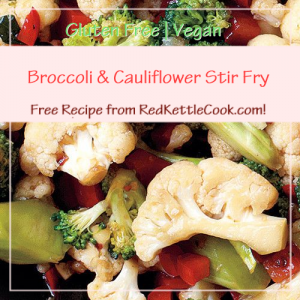 Yields 2 servings
Ingredients:
Instructions:
Place the tomatoes in a small bowl. Then cover them with boiling water. Let stand for 5 minutes. Drain them & then coarsely chop them.
Meanwhile in a small bowl blend the soy sauce (or coconut aminos), vinegar, sugar, sesame oil & red pepper flakes.
In a large skillet heat the oil over medium-high heat.
Add the garlic & stir fry for 30 seconds. Or until it smells flavorful. Don't let it burn!
Add the cauliflower & broccoli. Then stir fry for about 4 minutes.
Add the tomatoes & peppers. Then stir fry for 1 minute more.
Add the soy sauce (or coconut aminos) mixture & cook until heated through.
Serving size = 1/2 of total recipe. Calories 155 | Protein 6g | Carbs 19g