Bread Crust Zucchini Quiche
This is a quick and easy quiche that is low in fat and very tasty.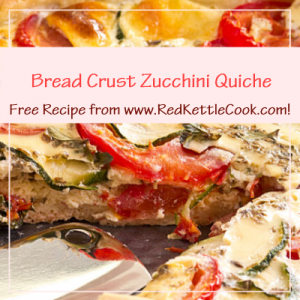 Ingredients:
3 slices whole wheat bread
1 tablespoon butter, softened (can substitute with margarine)
2 cups zucchini, sliced
1 large tomato, chopped
1 teaspoon dried oregano
2 tablespoons whole wheat flour
1 cup low-fat cottage cheese
2 eggs, beaten
3/4 cup non-fat plain yogurt
1/3 cup Parmesan cheese, grated
Instructions:
1)   Preheat oven to 375°F (190°C). Cut bread slices in half diagonally and arrange around edge of  9-inch pie plate.
2)   In a medium skillet, melt butter or margarine and sauté zucchini until tender, about 3-5 minutes. Add tomatoes and oregano and saute Cook for 3 minutes.
3) Stir in flour and spoon mixture into center of bread-lined pie plate.
4)  In a separate bowl, mix together cottage cheese, eggs, yogurt, and half of cheese. Spoon this mixture over vegetables and sprinkle with remaining cheese.
5) Bake for 30 minutes or until firm in center. Serve.