A superb accompaniment to any meal, especially an Italian one!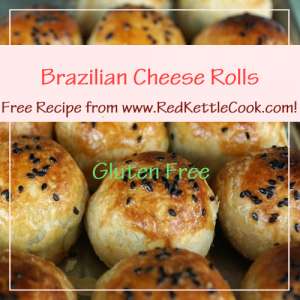 Makes 8 rolls
Ingredients:
* can use organic & gluten free almond flour or gluten free cashew flour or 1/2 organic & gluten free tiger nut flour and 1/2 organic & gluten free tapioca flour
Instructions:
Preheat oven to 375°F degrees.
In a saucepan over high heat add butter, water, milk & salt. Bring to a boil & immediately remove from heat.
Stir in tapioca and garlic until mixture is smooth.  Set aside for 10 to 15 minutes to rest.
Stir the cheese & the egg into mixture & combine thoroughly and has a similar texture to cottage cheese.
Using a 1/4 cup measuring cup fill approx 3/4 full and drop rounded mounds of mixture onto ungreased cooking sheet.
Bake for 15 to 20 minutes or until lightly browned on top.