While the image doesn't make this recipe look so good, the flavors of it are unexpected & extraordinary! It's a great side dish & it goes with just about any type of main dish that you cook!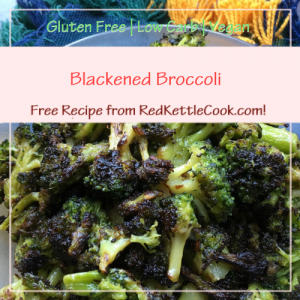 Ingredients:
Instructions:
Place fresh or frozen broccoli florets in a microwave-safe bowl with 2 T. water. Microwave on high until crisp & tender. Cooking time will vary depending on individual microwaves, so test after 2 minutes & adjust cooking time accordingly. Do not overcook! Florets should be firm when finished.
Add one half of the chopped garlic to cold skillet with 1 T. olive oil. Set heat to medium & add 1/2 tsp. crushed red pepper flakes (if desired) &
1 T. of butter.
Cook garlic over medium heat for approximately 1 to 2 minutes, stirring constantly. Increase heat to medium-high & add 1/2 of the broccoli florets to pan. Stir broccoli constantly while searing the florets.
Once blackened, remove the broccoli from the skillet & place in a large glass bowl. Cover and keep warm.
Repeat process with remaining garlic, olive oil, red pepper, butter & broccoli.
When second batch of broccoli is finished, add it to the bowl with the original batch. Drizzle with toasted sesame oil & toss to coat.
Season with salt and pepper (to taste). Serve immediately.