Black Bean & Vegetable Soup
This soup can be made on the stove, in a crockpot or in an Instant Pot™. Whatever your choice in making it, it's a tasty soup rich in flavor and nutritional value.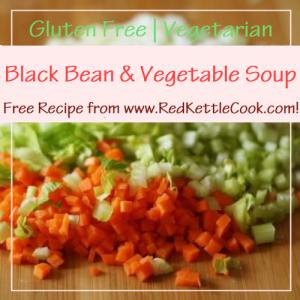 Ingredients:
4 cloves garlic, minced
1 onion. chopped
2 carrots, chopped
2 celery stalks, chopped
2 – 15 oz. cans black beans
1 -14 1/2 oz. can stewed tomatoes
1 T. canola oil
2 T. chili powder
4 tsp. ground cumin
4 cups vegetable broth
1 – 8 3/4 oz. can whole kernel corn or 1 cup thawed frozen corn
1 tsp. salt
1/4 tsp. black pepper
1/3 cup fresh cilantro (optional), minced
Directions:
Using a colander, rinse and drain black beans.
In a medium bowl, add half the black beans, reserving the rest for later. Add tomatoes to the bowl and mash together with a fork.
In a large pan over medium heat, heat oil. Add garlic, onion, carrots, and celery. Cook, stirring occasionally, until onion is softened, about 5 minutes.
Add chili powder and cumin. Cook, stirring, for 1 minute.
Add chopped apple, mashed bean and tomato mixture, remaining beans, broth and corn. Bring to boil.
Reduce heat and simmer until vegetables are tender, 10-15 minutes more.
Stir in salt and pepper. If you're using cilantro, add it now.