These are the most satisfying burritos that you'll ever have! They're packed with so many ingredients that will melt in your mouth!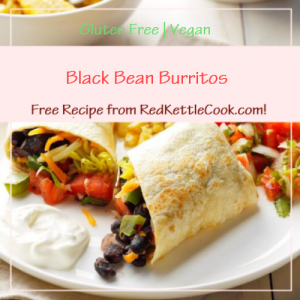 Ingredients:
4 – 10" gluten free flour tortillas
1 medium organic onion, diced
1 organic red bell pepper, chopped
3 cloves organic garlic, peeled & finely minced
2 (15 oz.) cans black beans, drained & rinsed
2 cans diced green chilies
2 plum organic tomatoes, seeded & chopped
1 tsp. ground organic cumin
1 tsp. organic chili powder
12 oz. of low fat cream cheese
Sea salt & organic black pepper, to taste
Small bunch fresh organic cilantro, stems removed & chopped
Shredded cheddar or Mexican blend cheese, optional
Instructions:
Heat oven to 350˚F.
Wrap tortillas in aluminum foil or place in a tortilla warmer & put in preheated oven for 15 minutes.
Heat olive oil in large skillet over medium heat. Add diced onion & sauté for 5 to 6 minutes. Add red peppers & garlic then cook an additional 2 minutes.
Add beans, green chilies & diced tomato to skillet. Season with cumin & chili powder then cook for 2 to 3 minutes more.
Dice cream cheese into 1" cubes & add to pan. Heat for 2 minutes, stirring occasionally until cheese is melted & mixture is thoroughly combined.
Remove pan from heat & stir in chopped cilantro. Season with salt & pepper (to taste).
To serve, spoon bean mixture down the center of warmed tortillas. Roll & serve with shredded cheese (if desired).