A sweet treat for any time of the day so why not eat dessert first?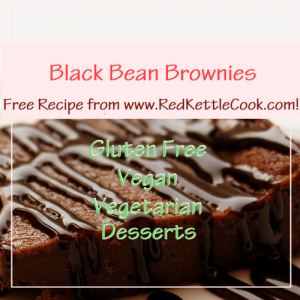 Makes 9 Brownies
Ingredients:
Instructions:
Lightly spray an 8″ square baking dish.
Preheat oven to 350°F.
Slowly melt Ghee in small saucepan over very low heat.
Rinse and drain black beans VERY WELL to help remove bean taste.
Put rinsed, drained black beans in blender. Add applesauce, milk, vanilla, melted margarine & blend until VERY CREAMY, at least a minute & a half.
Put remaining ingredients in medium bowl & stir together well with wire whisk to break up any lumps in cocoa powder.
Pour liquid ingredients into dry ingredients & stir together with spoon until combined.
Scrape into baking dish, level out & bake for 30 minutes.
Nutrition Facts: 1 Brownie = 170 calories, 4 grams fiber and 4 grams of protein