Baked Sweet Potatoes with Black Beans
Eat this as a main dish or as a side dish. No matter how you eat it, it hits the spot!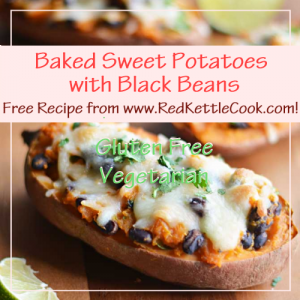 Serves 4
Ingredients:
Instructions:
Preheat oven to 425°F.
Prick the sweet potatoes with a fork a few times & bake in the oven for about one hour, or until tender. Remove from oven & allow to cool slightly.
In the meantime, place beans, tomatoes, olive oil, spices (cumin and coriander) in a saucepan. Season with salt & cook until heated through.
Cut each potato lengthwise & press open to make a well. Spoon the bean mixture on top in the center of the sweet potatoes, add a bit of sour cream & sprinkle with cilantro.