This is not canned spinach. Sorry Popeye. This is a great tasting side dish that you might just find a fondness for! Spinach & cheese? What could go wrong with that? Absolutely & positively nothing!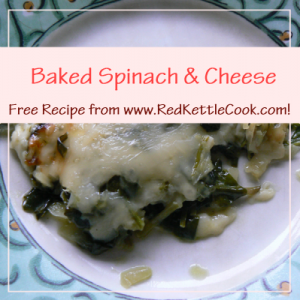 Ingredients:
1/4 cup unsalted butter
1 onion, chopped
2 to 3 garlic cloves, minced
1 bunch of fresh spinach
1 1/2 cups Swiss cheese, shredded (or you can substitute any white cheese of your choice)
Instructions:
Preheat your oven the oven to 350°F.
Over medium heat, melt the butter. Once it's melted, add the onion, garlic, salt & pepper (to taste). Sautéing everything until tender.
Add the spinach & mix with a wooden spoon to coat the spinach. Reduce the heat to medium-low & cover your pan with a lid. Let it cook for about 3 minutes.
Now you're ready to prepare your casserole dish. Put half the shredded cheese on the bottom of the casserole dish.
On top of the cheese, place all the spinach mixture. Then top with the remaining shredded cheese.
Bake uncovered, for about 20 minutes, or until the cheese begins to bubble.