Here's another great recipe that's cooked all in one dish! You've got your meat, veggies & dairy covered! All you need to figure out is what to have for dessert!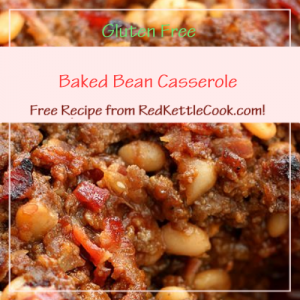 Ingredients:
1 1/2 lbs. lean ground beef or turkey
1 lg. organic onion, chopped
6 organic potatoes, pared & sliced
6 strips of bacon, cooked just before it gets crispy
1/2 lb. cheese (American, cheddar, Swiss)
1 lg. can organic & gluten free baked beans
10 3/4 oz. organic tomato soup
Instructions:
Preheat oven to 350°F.
Brown the ground beef & the onion. Then drain them.
In a 2 quart casserole dish prepared with organic extra virgin olive oil spray layer the ingredients as follows:

Potatoes
beef/onions
cheese
beans
soup

Bake covered for 1 1/2 hours or until the potatoes are fork tender.
Remove the cover & bake for an additional 30 minutes.