Amazing! Delicious! Marvelous! There's so many adjectives to describe these muffins! The best one's breathtaking! Or you could just say, "Get in my mouth!"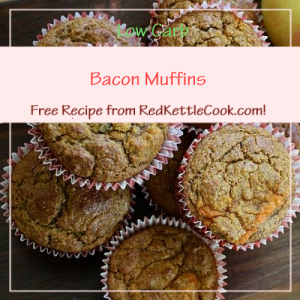 Ingredients:
Instructions:
Preheat oven to 350°F.
Combine oil, water, whipping cream, vanilla & eggs. Then mix until they're well blended together.
Add the vanilla whey protein powder, oat flour gluten flour & baking powder. Mix until moistened.
Break the bacon up into small pieces & stir into the batter.
Pour into 12 greased (with extra virgin olive oil spray) muffin tins.
Bake for 10 to 15 min. Keep an eye on them so they don't over cook!
They're finished when a toothpick inserted in the center of them comes out clean.
Note: Each muffin has 3 carbs