Avocado Baked Eggs Loaded!
You won't believe how amazing these breakfast "eggs" taste! Not to mention how healthy they are, too!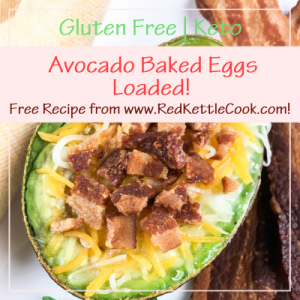 Serves 4
Ingredients:
2 large ripe avocados
4 medium eggs
Sea salt and black pepper, to taste
1/2 c. Cheddar Jack Cheese, shredded
3 strips sugar free bacon (pork or turkey), cooked crispy and crumbled
Chives or green onions (green parts only), sliced thin (optional garnish)
Tip: To keep your loaded avocado's from tipping over in the oven, place them on a muffin tin or roll up some aluminum foil & form into small round circles. Then place those on a baking sheet.
Instructions:
Preheat oven to 350° F & line a rimmed baking sheet with parchment paper.
Cut avocados in half lengthwise & remove the pits. Use a spoon to carefully remove some of the avocado flesh around the pit to create more space for the egg.
Reserve removed flesh for another use. Or smash it & season it with sea salt and pepper (to taste) & top each baked avocado half with a spoonful before serving.
Crack one egg into a small bowl or a measuring cup & then carefully transfer the egg into one of the prepared avocado halves. Place the filled avocado onto the prepared baking sheet & repeat this process with the remaining avocado halves and eggs.
Season each with sea salt & black pepper (to taste).
Place filled avocado halves in preheated oven to bake for 20 to 25 minutes. Or until the eggs are cooked according to your preference.
Remove from oven and top each avocado half with shredded Cheddar Jack cheese and crispy bacon crumbles.
Garnish with chives or sliced green onions (if desired) & serve immediately.