Au Gratin Carrots & String Beans
Although combining these ingredients doesn't sound like they'd taste very good. You'd be amazed at the flavor once you put the dish together!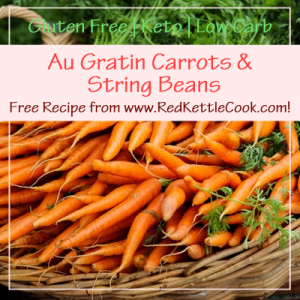 Serves 6
Ingredients:
2 c. carrots, cleaned, sliced & cooked until they're fork tender
1 c. string beans, cooked just until they're pliable
1/2 tsp. sea salt
5 T. unsalted butter, melted & divided
1/3 c. cheddar cheese, grated
1 egg, beaten
1 c. milk or almond milk
Instructions:
Preheat oven to 350°F.
Combine carrots, string beans, salt, 3 T. butter, cheese, egg & milk.
Pour into a greased 2-quart casserole dish.
Combine remaining butter & bread crumbs & sprinkle over the top.
Bake for approximately 35 minutes. You'll know when it's done when you see the juices bubbling up the sides of the baking dish.