Atlantic Sea Cod Made with Garlic Herb Butter
What a quick & rich dish to make & eat! In case you were wondering, the garlic herb butter takes the "fishy" taste out of the Atlantic Sea Cod, so you barely even notice that you're eating fish!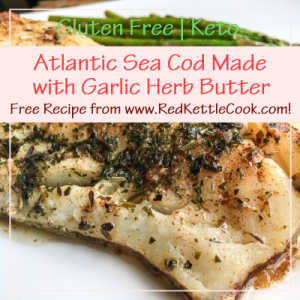 Serves 6
Garlic Herb Butter Ingredients:
6 T. unsalted butter, softened
1 1/2 tsp. garlic, finely minced
1 tsp. fresh parsley, finely chopped
1 tsp. fresh thyme leaves
2 tsp. fresh basil, finely chopped
1 tsp. sea salt
Additional Ingredients:
2 T. organic extra virgin olive oil
6 – 4 oz. Atlantic cod fillets
Sea salt and black pepper, to taste
Fresh chopped parsley, for garnish
Instructions:
Prepare the garlic herb butter by combining all ingredients in a medium-sized bowl. Stir until the garlic, herbs & salt are evenly distributed throughout the softened butter.
Transfer the butter mixture to the center of a sheet of plastic wrap & form into a log. Wrap tightly and place inside the refrigerator for at least 15 to 20 minutes to become firm.
Heat olive oil in a large skillet over medium-high heat. Pat cod fillets' dry with a paper or dish towel and season both sides with salt and black pepper (to taste).
Add fillets' to hot skillet and cook for 2 to 3 minutes or until they become golden brown. Reduce heat to medium and carefully turn over each fillet. Top each filet with an equal amount of herb butter and continue cooking for another 3 to 4 minutes. While cooking, spoon the herb butter back over the fillets as it melts.
Remove from heat & transfer fillets to individual serving plates. Drizzle with melted herb butter & garnish with some fresh chopped parsley (if desired).
Serve immediately!
Ed Note: This recipe works great with some oven roasted asparagus tossed with remaining herb butter from the skillet!