If cooked the right way, like is done in this recipe, asparagus is delectable! And when you add the pine nuts, sprinkled on top, it takes this dish over the top!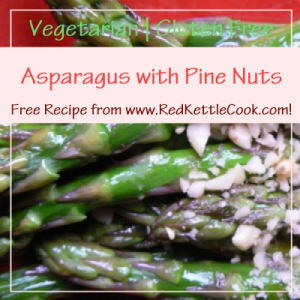 Ingredients:
Instructions:
Cut the ends off of the asparagus stems & steam the spears for about 3 minutes.
Once the asparagus has steamed, over medium heat, remove it from the steamer.
Heat the olive oil in a sauté pan over medium heat.
Add the red wine vinegar & asparagus and sauté for about 2 minutes. When the asparagus starts to brown slightly it's ready.
Season it with salt and pepper (to taste) & top with chopped pine nuts.