Asparagus Rolled in Prosciutto
If you've never had this before you're in for a real treat! The first time you eat it, close your eyes & savor the flavors! You might just eat them that way forever!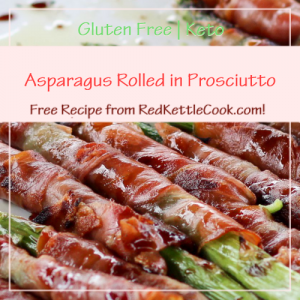 Ingredients:
2 T. butter, melted (or Lactose Free, Keto & Paleo Ghee)
12 organic asparagus spears
3 T. freshly grated Parmesan cheese
4 large slices of prosciutto, not cut too thin
Instructions:
Pour butter (or Ghee) onto a flat plate & set aside.
Cut tough ends off of the asparagus. Steam it until it's just tender. Drain well & pat dry.
Cover a flat plate with cheese & season it with white pepper.
Roll asparagus in butter (or Ghee), then in cheese, shaking off the excess. Season with more pepper (if desired).
Wrap 3 asparagus spears in each slice of the prosciutto.
Place open ends on bottom on a baking sheet pan. Place under a hot broiler just until the prosciutto is lightly browned, approximately 2 to 4 minutes. Watch it closely so it doesn't burn!
Serve immediately.